In a press event titled "LINE 2014 Showcase," LINE executive team announced they will redefine three of their core services.

"LINE is in good shape" said Takeshi Idezawa, COO of LINE. During a recent outage of WhatsApp, downloads of LINE has surpassed that of WhatsApp.

"As of today, 360 million users are using LINE. We are confident that we can reach 500M by the end of the year."



---
As chief strategy and marketing officer, Jun Masuda took over the stage, he said "LINE has succeeded beyond people's expectation. It has expanded beyond the expected user base, beyond the national boundary (of Japan) , etc... Just like that , we kept shifting our shape. We believed that we kept evolving. However, users and media began to form a fixed image about what we do. Today, we are changing that. And we are doing it with three new services. The keyword that bond them all is 'beyond LINE'."



---
1st of the three announcements was their signature "Stamp" service.
While most of the other messaging services are designed for text-based communication (with a little bit of emoticons), LINE, from the ground up, is designed to help intimate communication full of emotion, atmosphere, sense of timing with friends.
In doing so, they used what's Japanese are good at: MANGA (cartoon)-like character stamps.
Using these stamps, younger generation (and those people with younger hearts) can exchange their feeling without a single word and pass a really good time while they are distant away.

---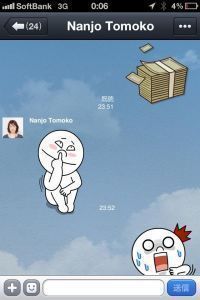 There is LINE Stamp store that distributes both free and paid stamps.
LINE fans are willing to buy (or gift) stamps that his/her friends might not know; and this was creating a healthy business model for LINE.

Partner companies of LINE were selling stamps to promote new goods, new movie, soccer team (such as FC BARCELONA and REAL MADRID). Even Paul McCartney was using line to promote his live performance in Japan.

But today, LINE is going 'beyond LINE' and changing that.
Up until now, only selected few companies were able to provide original stamps; but today LINE is opening up an International "Creators Market" for their stamps.
It is just like the AppStore or GooglePlay but they will only sell stamps (i.e. graphics. minimum set of 40). LINE will charge 50% of the sales.

LINE executive believes this will create a whole new market for illustrators and cartoonists.
Jun Masuda, also believe this will help LINE's growth in countries other than Japan.
He said every country has its own culture and own way of expressing thing. LINE had worked hard to do the best in Japan and that served many international customers alike. But as of today, creators around the world can help make LINE a better communication tool for their countries via LINE CREATORS MARKET.

Registering for the creators is free and open at: creator.line.me
---
---