The clerk at my hotel told me whenever there is a convention, there are more pickpockets in the city of Barcelona. He also told me whenever there is El Classico (i.e. FC Barcelona vs Real Madrid football match), there are more pickpockets.
Well, this week, we have both of them in Barcelona; if you are in Barcelona this week, it's not only the best season for Calçot (a type of green onion ) but also in season for pickpockets and robbery.
if you go into the center of the city, you already are in danger.

You might say 'I will be fine' because you are careful enough. But think again.
They work as a team and they are very systematic; it is really hard to protect your valuables if two or more of them come after you.

I grew up in Ecuador and have been to many dangerous places around the world and I have long believed that I can protect myself but my iPhone was robbed in a matter of a few seconds. I want to explain how it happened, so you will know their trick.

I was sitting on a bench at Plaza Antonio Lopez (right next to Casa Llotja de Mar) to take a look at bigger map on iPad mini. While I am doing it, I sat on my iPhone, so no one can steal it from me.
---
Then a guy came to me asking for directions; " a local asking direction to Asian guy on the bench?": he looked so suspicious also because what he was saying was so useless and didn't mean much, perhaps, he thought I won't understand it anyway (but I actually do speak Spanish).
It didn't take a second to realize he is a robber that I stood immediately and ran away from him.

I was relieved to see he, too, has walked away from me; but while it was happening there was someone else approaching me from behind and running away into different direction.
A few seconds later, I've realized my iPhone was gone.

As I am sort of an expert on anything Apple, I launched "Find my iPhone" app on my iPad mini within a couple of minutes only to find out that my iPhone has been turned off immediately after the robbery.

"Find my iPhone" is very useful service, but it is already too well-known to the world and it is useless while the iPhone is switched off.

But I still do recommend you to use the service as soon as you are being robbed (sooner the better); you can use the feature from http://icloud.com or from "Find my iPhone" app on unstolen iOS devices. Once you logged in on to iCloud or the app, you should turn your iPhone to "lost mode." So the service will keep an eye on your iPhone and let you know whenever it has been turned on.
'Lost mode' will also make you set a passcode to use your iPhone, so the information on your iPhone will be safe from the eyes of the robber.

Those robber might keep you iPhone 'off' most of the time, but it is very likely that they turn it back on either by mistake or to steal information from there or simply to refresh (=erase) all data on your phone to resell it.

If they try to break into your iPhone (to steal data), they will be exposed to the GPS info and will be easily spotted.

You will get e-mail notification each time it is being spotted with detail map of the area as shown below(the map will be in your primary language):


---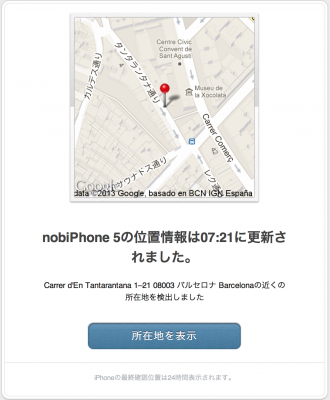 My robber also turned my iPhone 'on' at least 3 times; so now I have an idea about which area it is in, but it doesn't necessarily mean I got it back. I found it was spotted in rather dangerously looking street just behind Chocolate museum. So I went to the police station only to find they can't help me. The reason they can't help is because this map is only showing the neighbor of where they are but not telling exactly which room they are in. And if they don't have the apartment room number, they can't get the search warrant from the city; so they can't find it. One of the Barcelona police officer was kind enough to give me another option. He suggested me to go to the place alone, and find the robber on the street and call "112" for police although they can't catch them if they are on street, they can, if they are on the street. Right now, I am trying to negotiate with the robber by sending message to them via the "Find my iPhone" app. My iPhone is pretty useless while it is locked with pass-code + all Japanese iPhones are SIM-locked to Japanese mobile operators; I sent message to them explaining, I can offer them a better value, if they can think of a way for the exchange. I actually got a few phone calls from unidentifiable numbers on my other mobile phone but it was then that I realized my other Japanese phone was set to decline all calls made from un-identifiable numbers; and I can't change that setting from abroad. I have just gave them my Skype ID and secondary e-mail address and waiting for there response.
Through this experience, I had a chance to talked to other people who had been robbed; I also get a lot of insights from cab drivers and the kind police officer.
As I told you, they are very systematic, but systematic means 'they have patterns.'

There are certain dangerous area:
- Open space in Ramblas, Marina
- Metro
- Starbucks

It doesn't matter if you are surrounded by other (safe) people.They won't notice you are being robbed until it is too late; as a matter of fact, there were a big group of german tourist within 5m from me when I was robbed, but they didn't know it until I explained it to them.

If you are here for the week for MWC and if you stay within the convention center, you might be safe.
But if you are planning to dine out in the city of Barcelona, be careful because you can be the next target!


---