The Sushi chef that made Steve Jobs Wait for 30 min.
---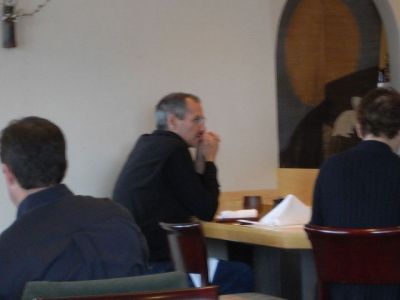 Despite my extensive research about Steve Jobs' affection to Japan, I am not sure when he began to like sushi.
But Jay Elliot, one of Steve's mentors, told me that Steve already liked Sushi when they visited Japan together back in 1983.

While Steve's first sushi chef remain as a mystery, in Japan, three of his top sushi chefs are very well known.
Below is the story of Toshio Sakuma, the ex-owner and chef of a traditional multi-course Japanese dinner restaurant 'Kaygetsu (桂月).'
This is where Apple Board often held their dinner. And this is where Steve Jobs made a surprise birthday party for his wife.
'Kaygetsu' is the place Steve Jobs loved the most and Toshio, perhaps, is the chef Steve had known the longest.

You might have heard Steve Jobs was very impatient. But if it were for Toshio's sushi, Steve could wait for 30 minutes.
Steve visited this place almost weekly. While he was very sick in 2011, he sent Mona Simpson, his biological sister, to pick up Japanese sweets.

Recently, a book about Toshio Sakuma, 'Steve Jobs' Chef' was published here in Japan; it provided a very interesting perspective to the history of Silicon Valley. After all, it was not just Steve Jobs who loved this restaurant.

The story of Toshio making Steve Jobs wait became so famous after a notice put beside the entrance of 'Toshi's Sushiya,' Toshio's second restaurant (preceding 'Kaygetsu').

The notice was titled 'Please wait to be seated.' The latter half of it was an FAQ, and item 2 there looked like this:

2. Q) If Steve Jobs came in without reservation, does he have to wait?
A) Yes, for the first few times he came in without reservations, he signed in on the waiting list and waited about 30 minutes. Now he calls ahead to make reservations. Ask him.

---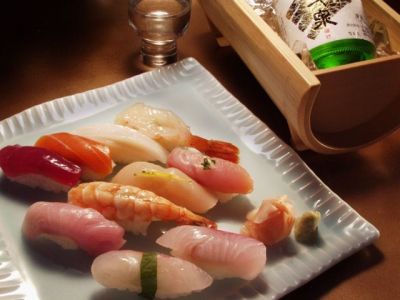 A Quarter Century Relationship
Steve had been eating Toshio's sushi since 1987 or 1988. And Toshio's restaurant, 'Kaygetsu' was one of the last restaurants he had eaten.

'Toro', 'Salmon' and 'Hamachi' were Steve's favorites.
'Five toros and five Hamachis' were his regular order.

On his last visit to Kaygetsu, he ate 'Negi-toro' and 'shrimp tempura.' Toshio also prepared 'Pumpkin tempura' but Steve wasn't in a condition to finish it.

Steve loved the place so much and often visited there alone for lunch (as spotted in picture above by Hitoshi Hokamura of Evernote).
Seat No.1 at the counter (shown above) was his favorite seat and even when he visited without reservation, he seemed upset when that seat was taken.

He often brought Jonathan Ive or his wife, Laurene Powell.
Steve held a surprise birthday party for Laurene back in 2000 at 'Toshi's Sushiya' with just the two of them. And another one at 'Kaygetsu,' in 2004 with 25 of his best friends including Larry Ellison.

Steve couldn't be away from Toshio's taste that he once sent his house cook to Kaygetsu, so he can learn how to cook better Chazuke and Spinach Goma-ae.


The Restaurant for Apple's Board Dinner
Steve shared his meal not just with friends and families.

Apple's board has decided to have their regular board dinner at 'Kaygetsu' after Fall, 2006; that means Al Gore, Bill Campbell, Mickey Drexler, Arthur D. Levinson and Eric Schmidt all gathered in Toshio's not-so-big Japanese restaurant.

Steve visited 'Kaygetsu' after almost every major product launch.
One exception was the iPhone launch and he missed it because Toshio was having a vacation.
But when Apple finally shipped the original iPhone in June of 2007, Steve Jobs and Jonathan Ive visited 'Kaygetsu' just to show Toshio how it works.


Now Served in Apple's HQ
Toshio Sakuma might have had a special karma with Steve Jobs.

He worked in Silicon Valley for 26 years running three Japanese restaurants.
By 2010, Toshio started to look for a change. 'Kaygetsu' has become too famous in Silicon Valley; Reid Hoffman of LinkedIn and Douglas Leone of Sequoia Capital were among the other regulars there.
Toshio wanted to keep the quality of service high but he was almost 60 years old.
Then there was Lehman Shock and in March 2011, Tohoku earthquake hit Japan and Toshio's birthplace, Fukushima was in big trouble.
But one day, Steve Jobs visited Kaygetsu for lunch bravely without reservation.
He was taking a medical leave from Apple's day-to-day operation but he was well enough to make the visit to Kaygetsu.
Steve Jobs knew Toshio had been trying to sell Kaygetsu and told him that he had a 'crazy idea.'
That idea was to hire Toshio as a chef for Apple's own cafeteria.
Toshio accepted it.

October 7th, 2011 was officially the last day for Kaygetsu.
But as a token of gratitude to his regular customers, Toshio has decided to make the last four days (i.e. October 4th to 7th) as 'special days' and take reservation from regular customers only.

Jonathan Ive's secretary called Kaygetsu and made a reservation for October 6th, 2011.
Jonathan's secretary told Toshio that he will bring a special guest with him.
Toshio thought that guest would be Steve Jobs.
But the night before the reservation, Toshio heard a very sad news: the passing of Steve Jobs.
On October 6th, Toshio receives an e-mail from Jonathan's secretary canceling the reservation. And Toshio replied it in sorrow.

That very week Toshio had to say goodbye to two of his best memories: Kaygetsu and Steve Jobs.

But thanks to that crazy ideas by Steve Jobs earlier that year; today, if you go to Caffè Macs (i.e. Apple's cafeteria), you can enjoy the sushi, Steve Jobs loved for quarter century.
The Departures of Kaygetsu and Steve Jobs
---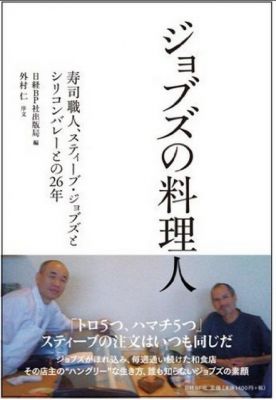 All this and so much more are revealed in the book called 'Jobs' Chef' by Nikkei BP published last fall only here in Japan (foreword by Hitoshi Hokamura).

Kaygetsu was not the only Sushi place Steve Jobs loved.
There is another Sushi restaurant Steve Jobs loved in Palo Alto called 'Jinsho' a much bigger restaurant where Steve held a farewell party with his dear friends.
Another one is in Kyoto, and is called 'Sushi Iwa.' Steve told Masayoshi Son of Softbank that he had the best meal in his life there.
But perhaps, I can talk about them on a separate blog post.
---
More stories about Steve Jobs and Japan
---
This is episode 5 of my "tales of Steve Jobs & Japan."
You will find my older posts here:

---
External Links:
- LinkedIn profile for Hitoshi Hokamura: http://www.linkedin.com/in/hokamura
(Thank you for proof-reading and contacting Mrs. Sakuma for the sushi photo)!
- Kaygetsu on Yelp
- Caffè Macs on Yelp


---