It is well-known that Steve Jobs is a Japanophile.
It is also well-known that Steve Jobs was a big fan of Sony.

In the book, "Insanely Simple" by Ken Segall, the godfather of "iMac" disclosed how Steve Jobs wanted to name that product "MacMan" mimicking "Walkman."

Akio Morita, the co-founder of Sony was not featured in the 'Think different.' ad campaign but he has always been a hero for Steve Jobs.
I remember Jobs giving condolence on his passing.

---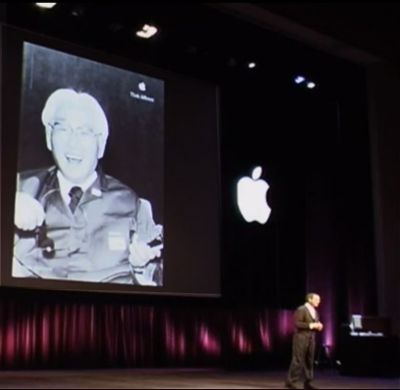 Steve Jobs and Akio Morita
While Jobs adored Morita, Morita also adored Steve Jobs.
"There are actually two American youngsters Morita was particularly fond of and took good care of: One was Michael Jackson, and the other was Steve Jobs" recalls Kunitake Ando, the ex-president of Sony, Inc. According to him, Morita, often invited them to Sony and gave them personal tours.

Because of this close relationship between Jobs and Morita, Apple and Sony was in a special relationship all along the way. The two companies had been very close even during Steve Jobs' absence. The two companies have worked closely on some projects. For example, Apple's QuickTime team had helped Sony develop their ATRAC audio file format. And ex-QuickTime architect directed some of Sony's Cybershot digital camera projects.

The relationship between Apple and Sony became even stronger when Steve Jobs returned to Apple and it continued on, perhaps, until iPod became such a huge success and Howard Stringer took control of SONY.
Mac-compatible VAIO
Most of Sony's executives spends their winter vacation in Hawaii and play golf after celebrating new year. In one of those new year golf competitions back in 2001, " Steve Jobs and another Apple executive were waiting for us at the end of golf course holding VAIO running Mac OS" recalls Ando; 2001 is the year, Mac OS X shipped and I am speculating this is Intel-version of Mac OS X, they hid for four and half years since then.

When Steve Jobs regained the control of Apple back in 1997, one of the first thing he did was to close all the Mac-compatible deals claiming it is destroying Mac's eco-system. UMAX CEO almost got a deal with Steve Jobs that they'd become the sole manufacturer of Mac-compatible but Jobs ultimately decided otherwise.
Steve Jobs believed that Mac-compatible business would harm not only Apple's business but also the 'Mac' brand.
But that same Steve Jobs was willing to make an exception in 2001. And that exception was Sony's VAIO.

Ando liked Apple. He always felt Mac and VAIO were so close in philosophy. He especially admired the original iMac introduced in 1998. But the timing was bad for Sony, it is just about the time, Sony's VAIO gained popularity and it is just about the time that VAIO team had finished optimizing both VAIO's hardware and software specifically for Windows platform.
Because of this, most of the VAIO team opposed asking 'if it is worth it.'
And that was the end of story for this Mac-compatible VAIO.


Give and Take
Maybe it is due to how Morita raised Jobs, but Steve Jobs casually visited Sony. Many of my Sony friends have witnessed him walking down the isle of Sony buildings.

"He always calls me out of sudden and asks ' can I go visit you today?'" recalls Ando. And as soon as he enters Sony buildings, he explore it at his free will saying "everything I've ever wanted to do is already done at Sony."
"He often demanded to bring the latest Sony products to him. And in most cases, he already knew very well about the products inside out. "

"Steve Jobs always had opinion on each of our product" said Ando. "When we launched PSP (PlayStation Protable), he complained why we were still using discs. He told discs are so out-of-date."
Jobs was especially interested in Sony's camera products, perhaps, because it is one of the product categories Apple didn't have (at that time).
Once, he took one of the latest Cybershots in hand and said 'if this thing had a built-in GPS, I can record everything that happens to my life."
Sony took that advice seriously and today, most of Sony camera products have models with built-in GPS.
Ando says "this idea of built-in GPS for camera originated from Steve Jobs."

While Steve Jobs casually gave out opinions and advices for Sony products, he also asked many questions to Sony executives.
Once, Steve Jobs showed strong interested in Sony's retail business, 'SonyStyle" and asked Ando why they are running it and how they are running it.
Ando explained "volume resellers would sell your products well but they don't tell the customers what you want to do with your products. And that is what we want to do at our retail store."
"And that is exactly what we need" replied Steve Jobs.
Ando believes SonyStyle gave a lot of hints to Apple's own retail stores.


close as friends and as business partners
Even after the passing of Akio Morita, the casual and friendly relation between Apple and Sony continued.
Steve Jobs sometime sent invitation to events such as classical concerts to Sony executives such as Ando or Keiji Kimura.

In late 2004, Steve Jobs made a phone call to Kunitake Ando and asked if he would like to share the stage with him at MACWORLD Expo/Keynote and so he did.
Apple announced video editing software called Final Cut Express at the Keynote and Ando was invited on stage to talk about Sony's latest video camera.

---
Start playing back the movie from 6:09
"Back then, we often called each other. Sometime we helped each other and sometime we solved dispute between us over those phone calls" recalls Ando.

But perhaps, that close relationship between Apple and Sony faded out as ex-CEO, Nobuyuki Idei and ex-president, Kunitake Ando stepped down and Howard Stringer became the successor.
This is my own view, but it may have been natural to Stringer especially because he never spent much time in Tokyo and didn't have any clue about how casual the relationship between the two companies had been.

"Back in our time, the top executives always talked directly to each other. Sony executives had that in their culture. For example, when we have decided to launch a new PC products which later becomes VAIO, we called and visited Bill Gates (of Microsoft) , Andy Grove (of Intel) and Apple's headquarter in Cupertino and talked" said Ando.
It was as if he wanted to complain the executives at big companies stopped talking to each other.

(This interview of Kunitake Ando took place in November 2011 for the book I supervised "The Legacy of Steve Jobs" which is only available in Japanese).
UPDATE:
After I posted this article to this blog, it was picked up on theVerge, MacRumors, etc. and have been translated into uncountable language.
I thank all the blogs which picked up this story (with the link to my blog article); it was sad to see so many blog only linked to theVerge.

Anyhow, one of the commenter on MacRumors, hrn, reminded me of very interesting information.
The story about

hrn's post: http://forums.macrumors.com/showthread.php?p=18733622#post18733622

hrn was referring to Project Marklar whose story broke out on Quora back in 2012.

That was after Kunitake Ando interview, so I posted a comment or Quora myself, but completely forgot about it.

Anyway, here is the Apple-side of the Mac-compatible Vaio story:



Max (our 1-year-old) and I were in the office when this happened because I was picking JK up from work. Bertrand walks in, watches the PC boot up, and says to JK, "How long would it take you to get this running on a (Sony) Vaio?" JK replies, "Not long" and Bertrand says, "Two weeks? Three?"

JK said more like two *hours*. Three hours, tops.

Bertrand tells JK to go to Fry's (the famous West Coast computer chain) and buy the top of the line, most expensive Vaio they have. So off JK, Max and I go to Frys. We return to Apple less than an hour later. By 7:30 that evening, the Vaio is running the Mac OS. [My husband disputes my memory of this and says that Matt Watson bought the Vaio. Maybe Matt will chime in.]

The next morning, Steve Jobs is on a plane to Japan to meet with the President of Sony.
http://www.quora.com/Apple-company/How-does-Apple-keep-secrets-so-well/answers/1280472

And here is my question to ask if Steve Jobs really was heading to Japan and the answer to it:
Nobuyuki Hayashi
very interesting read. I knew the VAIO story because I actually did interview ex-president of Sony for one of my books; there is one conflict. Mr. Ando told me Steve Jobs showed up on a gold course in Hawaii (but not in Japan).

The sad story with Sony half is although some of them were planning iMac with memory stick, etc. They have just launched the VAIO product line internationally and was so busy expanding it and they didn't have extra resources to work on Mac OS X version of VAIO; perhaps, I should translate the interview into English ;-)
• 11 Jun, 2012

Anonymous
I must have [unintentionally] made that detail up. That is to say, when I learned that Steve was on a plane to meet with the President of Sony, my mind probably filled in the "in Japan" part.

I'd prefer that the details are accurate. If it was a golf course in Hawaii, I will edit the story to reflect that.

I imagine there are other things I have wrong. It was, after all, a dozen years ago. I've been looking through some old email today and JK is pulling his off a backup drive.

I know already that there is at least one other incorrect detail. JK says that the startup screen did not say 'Welcome to Macintosh.' He had it booting up in Verbose mode.

I will continue sorting through the surviving emails to see if I can piece together a more complete, accurate story and update tomorrow or Tuesday.
• 11 Jun, 2012

Nobuyuki Hayashi
But on the other hand Mr.Ando's memory was also filled with incorrect memory especially dates, etc. But perhaps that Hawaii part is correct.
It is interesting to put the puzzle pieces together, isn't it? At least, I am enjoying it. I will try to translate my interview into English and put up on my web after WWDC this week ;-)

http://www.quora.com/Apple-company/How-does-Apple-keep-secrets-so-well/answers/1280472/comment/989850
Tweets derived from this article:
---